Description
AGV caster wheels
Aluminum alloy core with TPU wheel
Wheel size:Ø55mm,Ø65mm,Ø75mm
Double Ball Bearing
Hardness: 95 Shore A
Work Temperature:-20~70 centi-degree

Why choose our AGV caster wheels
1. The wheel frame adopts double bead plate plane bearing structure, and is formed by heavy-duty steel pressing. And by cold hardening the ball track to achieve a long service life.
2. The steering accuracy of the head is 0.1mm, which ensures the controllability and accuracy of the steering of the AGV casters.
3. The structure of the plane bearing makes the AGV caster wheels steering more flexible, and the dual-wheel differential design greatly improves the flexibility of in-situ steering. We can also equip it with a secondary shock-absorbing spring mechanism to prevent the wheels from hanging and skidding. This can save the power consumption of the AGV battery and extend the working time of the AGV.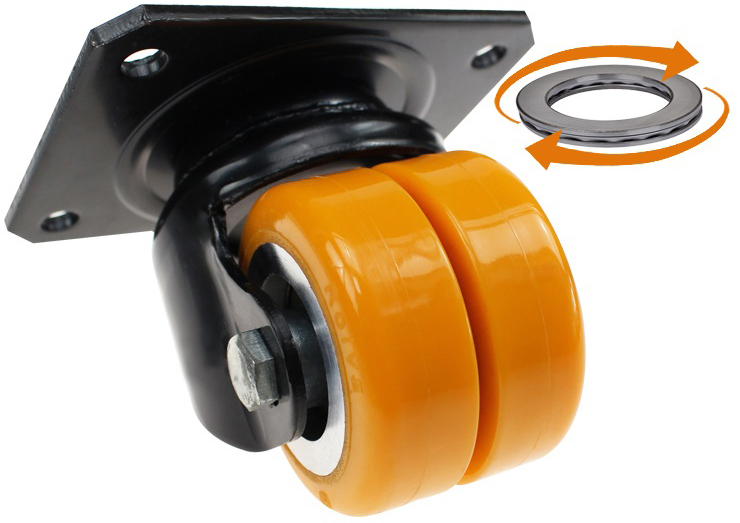 4. AGV wheels are made of aluminum core pouring PU, which is light and quiet, suitable for high-speed operation environment, and is often used in the industry of transporting AGV robots
AGV caster wheels factory, AGV caster wheels manufacturer, AGV caster wheels manufacturers, AGV caster wheels supplier, AGV caster wheels suppliers, AGV caster wheels wholesale
Extra Heavy AGV/Continuous Duty Casters
Capacity Range: 3200 – 15,400 lbs.
With a max capacity of 15,000 lbs. per caster, this series is built from the ground up to withstand the non-stop punishment of 24/7 operation for extra-large AGV's and other material handling equipment.
this feat by leveraging proven HPI swivel technology, premium low heat polyurethanes, forged steel wheel cores, and extra large precision ball bearings.
HPI? swivel technology was created years ago in response to an AGV application. HPI? outperforms conventional CNC-machined ball raceways, kingpinless and unit load bearing swivel constructions.
engineers then selected two of our 1" thick polyurethane treads—Ergo-Glide XT and DuraGlide—for their easy rolling, quiet operation and overall stellar performance.
For added durability and to accommodate larger precision ball bearings with extended bearing-life, the wheel cores of the 3", 4" and 5" wide wheels in the series were upgraded from cast iron to forged steel. Our engineers then designed press-fit top hat spanner bushings to eliminate axial play and reduce noise.
The end result is an extra heavy duty caster series designed for years of continuous operation and trouble-free performance. Series offers both single wheel (MD, EPSD) and dual wheel (MDD) models; select dual wheel models to gain stability and higher capacities. Scroll down to the chart below to select the model number that's best suited for your specific requirements.