High Quality Hospital Bed Castors Factory Sale
Description
Name:Hospital Bed Caster
Wheel Material:PU,PVC
Size:3" x 24mm ; 4" x 32mm ; 5" x 32mm
Loading Capacity:90kg-110kg
Bearing Type:Precision Bearing
Type:Threaded Stem,Threaded Stem With Plastic Dual-Brake,Threaded Stem With Metal Dual-Brake
Widely used as medical trolley caster,Hospital bed caster.Medical cart castors,Hospital Stretcher Casters
| | | | | | | | | | | |
| --- | --- | --- | --- | --- | --- | --- | --- | --- | --- | --- |
| Caster No. | Wheel | Material | Bearing | Plate | Mount | Height | Bolt Hole | Thread | Stem | Loading |
| P91TPB-3 | 75 x 24 | PU | Ball Bearing | 95 x 67 | 73 x 45 | 118 | 12 | M12 x 25 | 23.5 x 40 | 90 kg |
| P91TPB-4 | 100 x 32 | TPR | Ball Bearing | 95 x 67 | 73 x 45 | 138 | 12 | M12 x 25 | 23.5 x 40 | 100 kg |
| P91TPB-5 | 125 x 32 | TPR | Ball Bearing | 95 x 67 | 73 x 45 | 165 | 12 | M16 x 30 | 23.5 x 40 | 110 kg |
This kind of hospital bed castor wheels are mainly used on manual hospital bed,and medical carts. In general this type of hospital bed castors are simplest design and cheapest.
As below 3D drawing display, the interior steel fork ensure the whole caster can load heavy weight, We all know give the patients a quiet condition is very important, So we adopt noiseless bearing on both swivel and wheel portion and use high quality TPR wheels to make sure the hospital bed casters can be running on hospital quietly.
Beside of this the caster with a white ABS shell on the both side of wheels. The ABS cover make the casters more friendly on hospital and enable easy to wash and clean the caster dust.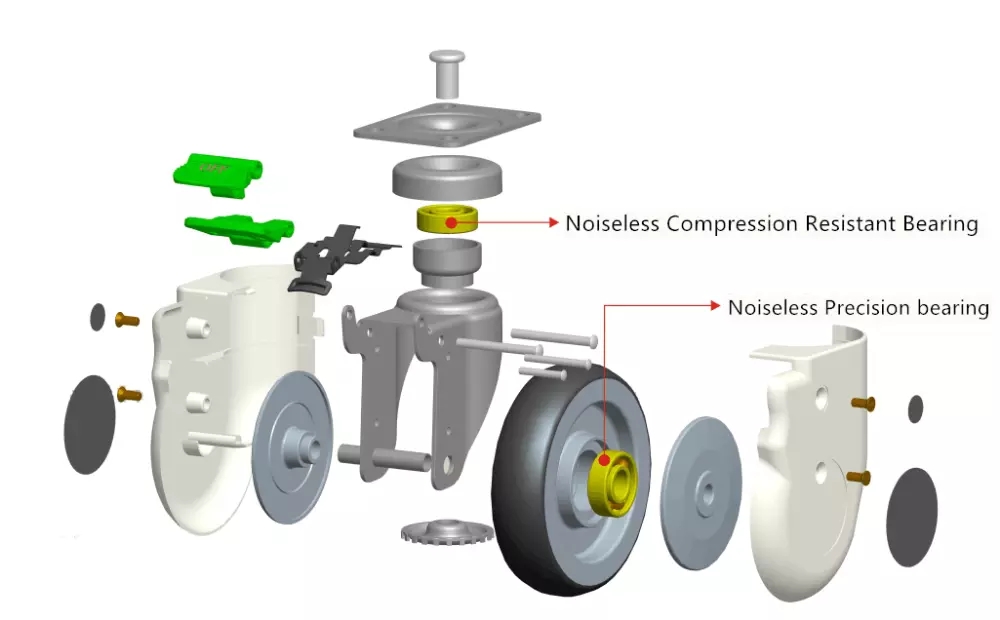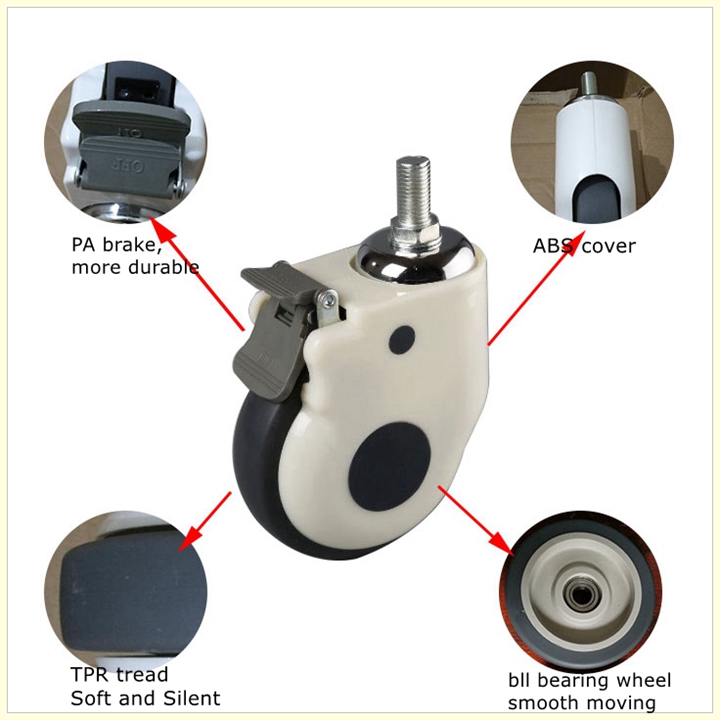 For this hospital bed castors we have 3 kinds of mount types.

M12/M16 x 25mm Stem Solid Stem Square Plate
The variety mount type allow user have more choice to fit their device and hospital furniture. And the double nylon lock pedal are easy to operate——-Press the longer pedal to lock the casters,and press the shorter pedal to release the wheels.
There are have three size of this kind of hospital bed castors,Ø75mm,Ø100mm and Ø125mm. Different size of caster have different
About the Wheel Diameter: Since larger wheels will roll more easily, you will want a wheel as large as possible, but you do not want a wheel that is so large that it will raise the center of gravity of your load that can lead to tipping.
Swivel Radius: If you are choosing a fixed caster this is not a concern, but if you need your caster to swivel you need to know how much clearance is required to attain a 360-degree swivel with the mounted caster.
Dynamic Load & Load Capacity: Each caster is designed and built to support a certain maximum load while in use, and exceeding this maximum can cause damage and deterioration of the caster, which can potentially lead to catastrophic failure. For this reason it is important to know the maximum load you will have so that you can divide this evenly among the casters you will use; more casters can mean more load capacity for a cart or trolley.
So when you choose the hospital bed castors please check the above technical specs of the casters first. Then select the correct casters you need.