Description
Name:Leveling Caster Wheels,Caster with foot stand
Material: PA6
Wheel Size:2" x 38mm ; 3" x 46mm
Loading Capacity:300kg,500kg
Purpose:Computer racks caster,medical & laboratory equipment caster, printers, copiers, modular framing enclosures, electronic enclosures casters wheels.
| | | | | | | | |
| --- | --- | --- | --- | --- | --- | --- | --- |
| Caster No. | Wheel | Material | Bearing | Plate | Mount | Height | Loading |
| LCW-2 | 50 x 38 | PA | Ball Bearing | 80.5 x 80.5 | 58.5 x 58.5 | 80 | 300 kg |
| LCW-3 | 75 x 46 | PA | Ball Bearing | 80.5 x 80.5 | 58.5 x 58.5 | 118 | 500 kg |
The heavy duty leveling caster wheels double bead plate support structure is made of steel pressing and has a long service life by cold work hardening the ball track. The surface is galvanized, yellow passivated, and does not contain hexavalent chromium.
The wheels are made of PA6 injection molding and equipped with bearing steel double bearings.
Tread hardness 70 Shore D
Operating temperature -20~60 degrees
This heavy duty leveling caster wheels can meet the high load-bearing price, meanwhile the price is lower than the ordinary aluminum die-cast body leveling wheel, so it has a better cost performance.
This leveling caster wheels is widely used in office furniture and heavy equipment. You can move freely by raising the adjusting foot, and fixing the equipment on the ground by lowering the adjusting foot. Easy to use and reliable in quality.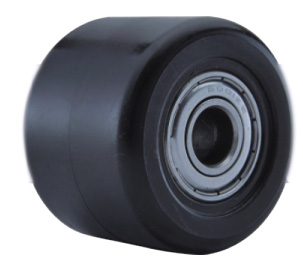 Leveling Caster Wheels factory, Leveling Caster Wheels manufacturer, Leveling Caster Wheels manufacturers, Leveling Caster Wheels supplier, Leveling Caster Wheels suppliers, Leveling Caster Wheels wholesale
6 Essential Criteria For Selecting The Best Caster Wheel
A caster is more than just a wheel. In fact, it is often considered as the evolution of the wheel because of the myriad of uses one gets out of it. Since casters have been around for so long, they have branched out into various types of wheels. So how does one select the best leveling caster?
We need to consider multiple factors when shopping for the best leveling caster wheels. Once you have narrowed down what you want out of your caster, you will be able to select the ideal caster wheels for your line of work:
Types of Caster
There are two main types of casters available in the market, and every other type of caster is a sub-type of those two options. These are:
Swivel Casters – These caster wheels can rotate 360 degrees, which is why they offer high maneuverability and are perfect for moving heavy loads around the warehouse. They can be used to move industrial equipment and furniture. The bigger the wheel, the larger the load it can carry. There are different types of swivel casters, including kingpinless casters, stem casters, locking casters, and plate casters
Rigid Casters – As the name suggests, rigid casters are fixed in place or "rigid." They simply feature a wheel between a bracket, so there is no swivel motion. Rigid leveling caster wheels are perfect for moving hefty loads around the warehouse. Since there is no swivel, the rigid caster can only maneuver the object forward or backward, which helps carry heavy loads. Most rigid casters come with a brake, which helps control movement.
Kingpinless Swivel Casters – These casters are a special type of swivel caster that eliminates all the shortcomings of a swivel caster. A regular swivel caster is held together by a kingpin, which bears all the stress that the caster undergoes. So a traditional swivel caster gives in under very high loads and rough surfaces. A Kingpinless Swivel Caster is not held by a bolt or rivet, which is why it can bear higher stress levels, making it more durable under heavy loads or rough surfaces.
Load Bearing
Keep in mind the kind of load you will need to move around to select the best type of caster for it. The heavier the load, the bigger the wheel you must use. Having a load measurement on hand is helpful. For example, a load that is over 250 pounds will require bearings.
The load of the object is not the only load you have to consider, though. Keep the shock load or the impact load in mind as well. This refers to the impact that the cart experiences the moment it receives a load or when the cart bumps into an obstruction or a rough surface. The maximum load your cart will have to bear will determine the kind of caster perfect for it.
Wheel Type
The most important consideration for a leveling caster wheel is its size. Larger wheels can bear heavier loads and are easy to maneuver. Naturally, for higher loads, you will need a larger wheel.
Other than that, the material and finish of the wheel will also determine its durability in your line of work. Common materials used to make wheels include soft rubber, hard rubber, and steel. Steel wheels are resistant to most chemical damage and rusting and can also bear heavy loads. Rubber wheels are not harsh to most types of flooring, do not cause noise pollution, and are resistant to harsh weather conditions.
The type of tread is also crucial when selecting a wheel. The two main types of tread are donut and flat. A donut tread does not cause sound pollution and cushion against obstructions in the wheel's path. Flat wheel treads can carry large loads.
Bearing
If your caster requires bearings, here are the main types:
Plain bearings – These are the most commonly used bearings. They are inexpensive, lightweight, and com