Shock absorber AGV caster wheels
Description
Shock absorber AGV caster wheels
Aluminum alloy core with TPU wheel
Wheel size:Ø55mm,Ø65mm
Double Ball Bearing
Hardness: 95 Shore A
Work Temperature:-20~60 centi-degree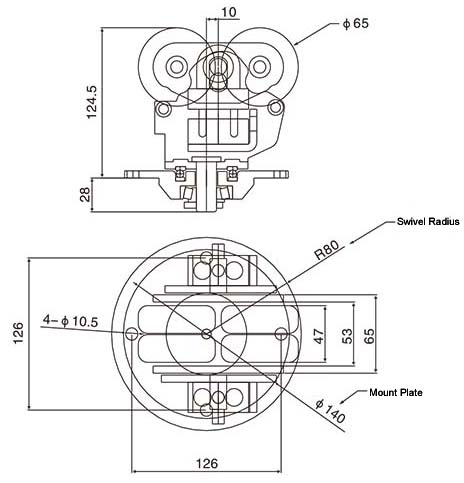 The Shock absorber AGV caster wheels adopts a unique shock-resistant suspension structure, which can swing from front to back and left and right, adopts secondary shock absorption, and is fixed by riveting with a very stable center bolt. The bead plate adopts precision bearing parts, which makes the rotation super quiet, flexible and durable. The wheels are made of aluminum alloy wheel core outsourcing QPU bonding, vulcanized molding, and the double-wheel structure makes steering more convenient.
It has the characteristics of environmental protection, abrasion resistance, hydrolysis resistance, puncture resistance, and low drag force. It has the advantages of self-adaptive ground (such as unevenness, elevator threshold steps, slopes less than 30 degrees), and stable operation.
The Shock absorber AGV caster wheels are the ideal solution for the new generation of automatic moving robots because they do not need to modify the ground and save costs.
Shock absorber AGV caster wheels factory, Shock absorber AGV caster wheels manufacturer, Shock absorber AGV caster wheels manufacturers, Shock absorber AGV caster wheels supplier, Shock absorber AGV caster wheels suppliers, Shock absorber AGV caster wheels wholesale
Shock Absorbing Casters
Shock absorbing casters reduce noise, protect cargo and extend caster, wheel and bearing life. Hamilton now offers two styles of shock absorbing casters. Our original patented design with its unique "floating" axle under the springs represents the more economical choice. The second, our new premium aerospace design featuring Hamilton's newest Spinfinity maintenance- free swivel construction and a unibody spring housing providing up to 200% greater spring travel and a wider operating capacity range.
Your Guide to Casters and Wheels for Automated Guided Vehicles
Automated Guided Vehicle Caster Wheels offer a full range of back and battery-saving benefits.
As the Automated Guided Vehicle movement experts, Caster Concepts has a full line of AGV cart casters and wheels. Typically, these battery-powered vehicles travel along predetermined paths and can navigate with a variety of guidance technologies. The casters and wheels that we develop for Automated Guided Vehicles offer better maneuverability, less resistance needed to turn, and maintenance-free options to increase caster and battery longevity and reduce operator fatigue.
Better Maneuverability with TWERGO? Twin- and Triple-Wheel Designs
Heavy Duty CastersTWERGO? Twin- and Triple-wheel designs have independently spinning wheels that rotate in either direction and at any rate. This design minimizes friction and reduces the effort needed to turn and maneuver. This design also provides superior maneuverability, which means shorter paths and less install work.
Minimize the Effects of Poor Flooring/Uneven Loading with CasterShox? Shock Absorbing CasterHeavy Duty Casters
CasterShoX? utilizes patented technology that combines the very best attributes of spring technology and polymer dampening technology. Vehicles sound a lot quieter on busy plant floors. And better shock absorption at the axle level significantly reduces the impact on the cart and its contents.
Case Study: AGV Cart with High Maneuverability and Payload
Heavy Duty CastersThe Situation: BAE approached Conceptual Innovations to develop an Omni Directional Cart capable of carrying 40K lbs. of payload in and out of weld cells.
The Solution: A complete turnkey cart (100″ wide by 250″ long) was developed that consisted of 4 Omni Directional drive pods and 4 load-bearing swivel-on-swivel 97 Series casters from Caster Concepts. LEARN MORE.
Single Drive and Omni Drive systems
Our Single Drive Casters easily retrofit existing equipment and are one of the most efficient ways to reduce operator injury and move much heavier loads. As shown in the case study above, our multi-pod Omni Directional Drive Systems are available in many configurations to solve a variety of challenging applications.
In-House Polyurethane Manufacturing for any Situation
95A Standard, 700 Hard, Ergotread, T/R85, HPPT, T/R 95,Polyurethane Wheels are often used on automated guided vehicles due to the variety of tread hardness (durometer) they offer. The polyurethanes used with our wheels range from high performance for drive wheels to non-marking, debris rejecting, and energy-efficient for improved power usage. All our wheels are manufactured at our facility, allowing us to customize and engineer a polyurethane solution for any application.
Caster Concepts has a full line of casters and wheels designed for use with Automated Guided Vehicles and tuggers, offering an efficient and economical choice for many continuous-duty applications.
Stainless steel casters are highly durable and long-lasting caster wheels used in various applications in many industries. They can be used to transport different items and are very widely used. Stainless steel casters also come in various sizes and for different uses, making them highly versatile and making selection quite tricky. Therefore knowing as much as you can about stainless steel casters is essential for ensuring you select the right one for your needs.
What Are Stainless Steel Casters Used For?
Stainless steel casters are durable and ideal for use in any harsh environment. They are highly resistant to chemical wear and corrosion, so they can be used in carts and AGVs in chemical facilities.
Stainless steel casters are also often used in the food industry for service and processing since these environments require moving food items around, which can often get intense. Often, there could be temperature changes in the facility, which a stainless steel caster can easily withstand. These industries also require strict sterilization and cleaning, due to which they are exposed to harsh cleaning agents, which can easily corrode any other material.
They are also used in marine environments where they regularly come in contact with saltwater.
These casters are also used in medical and pharmaceutical industries since they have to resist damage from sterilizing chemicals. Stainless steel casters do not get rusted, preventing bacteria accumulation and creating a sterile environment.
Manufacturing facilities also make use of stainless steel casters since they use harsh chemicals in the manufacturing process, which are easy for stainless steel casters to withstand.
What Are The Advantages Of Using Stainless Steel Casters?
Stainless steel casters are very widely used because there are many advantages to using these caster wheels. Some of the advantages include the following:
Resistant To Corrosion
Stainless steel casters are resistant to rust and corrosion. This is why they can be used in different environments and be exposed to water and chemicals without any danger of rust and damage. Stainless steel caster wheels are also resistant to damage from extreme temperature changes since extreme heat and cold cannot damage the integrity of their structure, which makes them the perfect choice for harsh environments.
Strong
Stainless steel casters can easily carry hundreds of thousands of pounds in weight without buckling under pressure. They are incredibly strong, making them perfect for use with heavy equipment. You can rest assured that your equipment will be on safe wheels when you entrust them to stainless steel casters.
Durable
Stainless steel casters are also durable. They can last for years in harsh environments without needing replacement unless something unprecedented happens. This is also why they are ideal for carrying heavy loads and working in harsh environments. These environments will save immense maintenance costs just by using the correct caster wheels.
Easy To Clean
Since stainless steel casters are resistant to corrosion, they are pretty easy to clean. Once they have come into contact with an unsanitary environment, or if you see the wheel collecting grime, you can use powerful detergents and sanitizers on them without worrying about rust or corrosion. This is why these casters are ideal for the food, pharmaceutical, and medical industries.
Antimicrobial
Stainless steel casters also often contain antimicrobial properties. These wheels can be infused with active antimicrobial substances, which can prevent the growth of bacteria and fungi on the wheels. This property also makes the wheels perfect for environments where sanitation is of utmost importance.
Versatile
Lastly, one of the biggest benefits of stainless steel caster wheels is that they are very versatile. You can use them in all sorts of environments and many different industries, making these wheels the correct choice in many instances. And there are so many types of stainless steel casters that you will indeed find the right fit for any use.
Aesthetically Pleasing
Stainless steel casters are usually sleek and can look professional and add aesthetic value to wherever they are being used. They do not accumulate dirt easily either, which is why these casters usually look stellar.
How Do We Take Care Of Stainless Steel Casters?
Stainless steel casters are very durable, requiring the least amount of maintenance among all types of casters. However, it would help if you did not skip routine maintenance with these casters since it will help them last for many years without causing any trouble.
Frequent Inspection
Make sure that you inspect the caster wheels thoroughly every time you inspect the rest of the equipment. See if you see signs of wear on the coating or any rough or damaged spots. The quicker you find out about issues with the wheels, the quicker you can sort the problem out.
Keep Them Smooth
Stainless steel casters are resistant to corrosion, but they will rust if not correctly lubricated when it's time. It is ideal to lubricate stainless steel casters at least once in six months to keep them smoothly rolling in motion. You must also lubricate the wheels immediately if you feel that the movement is less smooth or if the wheel has started to tug.
Check The Fastenings
Don't just examine the wheel for wear; also check the fasteners. If the fastener wears away or loosens, the wheel will get compromised, and there might be some damage to the equipment it is carrying. Therefore remember to check the fasteners for wear and fix anything that needs attention.
Repair And Replace As Necessary
Always remember to repair anything that needs attention immediately. Letting damage to the wheels build up over time will compromise their integrity and cause wheel failure quickly.
Do not try to work with faulty and damaged wheels. If the caster has become damaged beyond repair, you should replace it as quickly as possible since not doing so can compromise the transit process and damage the equipment. Ideally, you should also know the lifespan of the wheel you have so you can prepare for replacements once the time is over.
Conclusion
Stainless steel casters are widely used in the market everywhere. These wheels are strong and incredibly durable, making them best for harsh environments. Stainless steel casters are also long-lasting, so they can go years without being compromised. Talk to the manufacturer before investing in the wheel, so you know what grade is best for your line of work.