Threaded Stem Leveling Casters
Description
Threaded stem leveling casters
Material: Cast Aluminum body with polyamide wheel
Wheel Size: Ø42 x 20;Ø50 x 25 ; Ø63 x 30 ; Ø75 x 30 ; Ø75 x 33 ; Ø96 x 52
Load Weight:50kg,250kg,500kg,750kg,1000kg,1500kg
Bearing:Plain Bore
Leveling Pad Brake
| | | | | | | |
| --- | --- | --- | --- | --- | --- | --- |
| Caster No. | Wheel | Material | Bearing | Thread | Height | Loading |
| LCWT40 | 42 x 20 | AL + PA | Plain Bore | M8 | 71 +10 | 50 kg |
| LCWT60 | 50 x 25 | AL + PA | Plain Bore | M12 x 15 | 82 +10 | 250 kg |
| LCWT80 | 63 x 30 | AL + PA | Plain Bore | M12 x 15 | 102 +15 | 500 kg |
| LCWT100 | 75 x 30 | AL + PA | Plain Bore | M16 x 20 | 120 + 12 | 750 kg |
| LCWT120 | 75 x 33 | AL + PA | Plain Bore | M16 x 20 | 120 + 12 | 1000 kg |
| LCWT150 | 96 x 52 | AL + PA | Plain Bore | M16 x 20 | 132 + 15 | 1500 kg |
The leveling caster wheels has the functions of caster and leveling feet function at the same time. When the equipment needs to be moved, the user need lift the leveling feet , then the function of caster can be used; and when the equipment needs to be fixed to work , The caster can be adjusted to the off-ground state, then the foot cup function can be used. Convenient and practical, it is widely used in mechanical equipment, network cabinets, electrical cabinets, medical equipment, etc.
We have produce high quality adjustable leveling caster wheels
Our adjustable leveling caster use high strength steel plate with baking varnish mount plate.
High quality nylon adjust gear wheel allow user can operate the lifting and down by hand easy.
The Reinforce aluminum alloy body ensure whole leveling casters have a reliable quality & heavy load.
Antis-kid rubber base make sure the machine or equipment keep in position stable and floor protect, Beside of this our adjustable feet have aluminum insert in the foot base, this design improve the stand base can be load more heavy weight and won't broken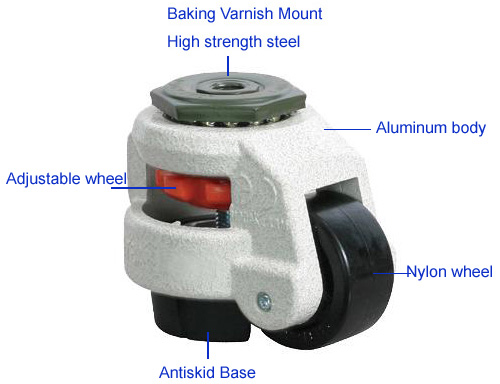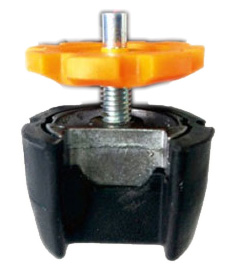 Threaded Stem Leveling Casters factory, Threaded Stem Leveling Casters manufacturer, Threaded Stem Leveling Casters manufacturers, Threaded Stem Leveling Casters supplier, Threaded Stem Leveling Casters suppliers, Threaded Stem Leveling Casters wholesale